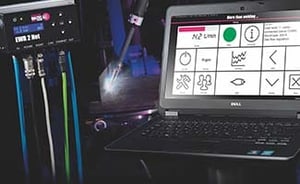 In the hyper-competitive world of welding, the best and often easiest ways to reduce the cost of production is by allowing your process to be data-informed.
Your shielding gas usage is no different!

Many look at shielding gas use as simply the cost of doing business without giving thought to whether there are solutions to not only lessen gas use - but capture data to help inform them of ways they can improve cost control and quality.
In this exclusive webinar, ABICOR BINZEL Key Accounts Manager Scott Huber breaks down Electronic Welding Regulation, how it stacks up against traditional gas control methods, and the type of payback manufacturers can reasonably expect moving to electronic means of gas regulation.
Learn more about it today!