Producing faster, with consistent quality and the lowest possible costs – those who want to withstand today's tough competition have to rethink. The shortage of skilled workers and increasing lots are pushing manufacturing companies to their limits. In the end only the step towards automation helps. But small and medium-sized companies in particular often hesitate because the uncertainty in the investment is too high – but it doesn´t have to be a fully automated welding robot!
The ideal entry-level solution:




Welding with cobots!
Our eBook provides answers to questions like this: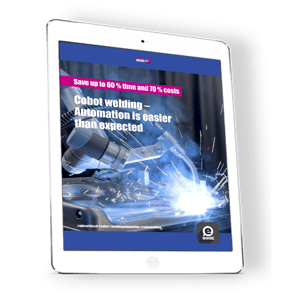 Why does it make sense to invest in automation in times of skills shortage

?
What is a cobot?

How do you get a good and easy start into automated welding with the help of cobots

?

How does the investment pay off

?

What do you need to get started with cobot welding?

What are the different steps to start a cobot welding project?
Our eBook shows you step by step how to get started with automation. You will have clarity as to what your very individual next step will be and whom you can address and how your employees and colleagues acquire the necessary know-how to efficiently use a cobot as an additional tool and still continue to enjoy welding.
If you are thinking about getting started with cobot welding, this eBook is the right reading material for you!
Just fill out the form and get your eBook for free!