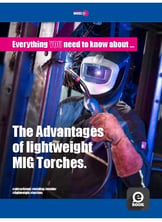 You've probably heard about Lightweight MIG Torches, but are they really that much different from a standard MIG torch?
Believe it or not, the difference is substantial, and we've done the research so you don't have to.
This eBook goes through everything you want to know about:
The benefits and key features of Lightweight MIG Torches
Why Lightweight MIG Torches they are key to welder performance
Why you should be using them in your welding process
How they're designed to stand up to industrial settings
If you've looked at Lightweight welding torch options in the past and didn't think they were built to last, we show you how far the technology has come and how it can perform better than the welding torches you're currently using.
Download now.