Automated Pipe Welding Perfection from Novarc Technologies with welding solutions from ABICOR BINZEL Robotics Systems!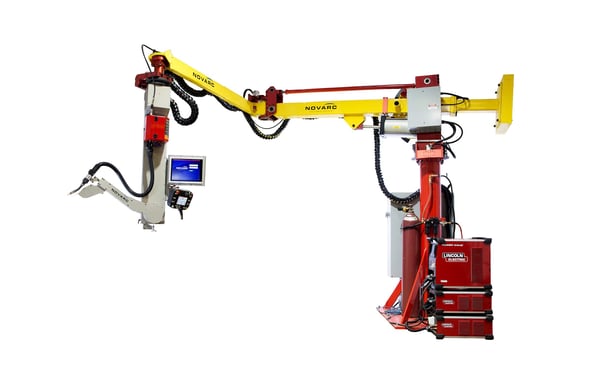 Automated pipe welding perfection meets human interaction with the revolutionary collaborative Spool Welding Robot. Combining the latest in welding technology with the welder expertise, the SWR produces powerful results with quality weld seams in a safe and efficient manner.
The Spool Welding Robot modernizes the labor-intensive practice of pipe fabrication while increasing pipe shop capacities and supplementing the shortage of skilled pipe welders in the pipe fabrication market today.
---

Spool Welding Robot with ABICOR BINZEL Robotic Systems Solution Mix


ABIROB W Water-cooled MIG Torch
The robust and flexible welding torch designed for high amperage and high load welding. Rated up to 600 amp and equipped with a state-of-the-art torch cable that is durably designed and built for high demand welding environments. The modular torch design allows for an easy, threaded torch neck change out without altering the Tool Center Point. Use with the high-grade, long lasting BINZEL welding consumables for best results.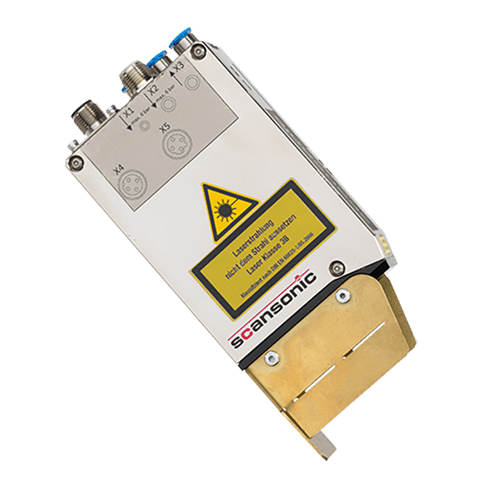 Optical Seam Tracking system TH6D/TH6i
Triple beam sampling gives the SWR solution real time tracking of the weld joint to guide the welding torch through the seam variation to produce quality welds every time. Maintains torch to pipe distance with +/- 0.1mm accuracy so the welding operator can focus on the weld. Especially suited for stainless steel or aluminum surface. Also able to seam track zero-gap joints with the revolutionary grey-scale camera technology.
Electronic Welding Regulator EWR 2
Up to 60% gas savings means the EWR 2 saves the welding operation money every time the torch is in use. Made for both CO2 and Argon, EWR 2 controls gas flow in real time and in sync with the welding current via rapid-acting solenoid valve that guarantees gas flow control far more precisely than traditional gas control systems. EWR 2 comes in a "Net" version built for the Internet of Things (IoT), and is compatible to connect with any fieldbus system and exchange data in real time.



---

Spool Welding Robot by the Numbers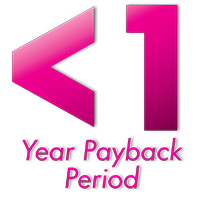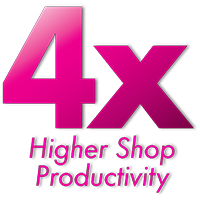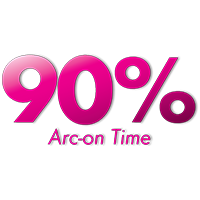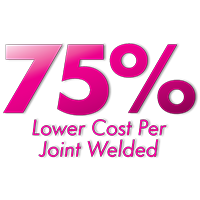 ---

VIDEO: Spool Welding Robot in Action

---

Automated Pipe Welding Designed for Minimal Space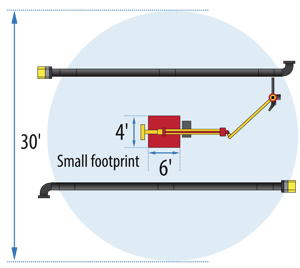 The Spool Welding Robot reaches joints anywhere within it's 15-foot reach from 6 inches to 60 inches height from the floor in multiple variations.
Machine base and equipment take a 4' x 6' area in the shop compared to track mounted robots - without blocking forklift traffic or interfere with shop cranes.
Weld joints on pipe spools up to 30-feet long.